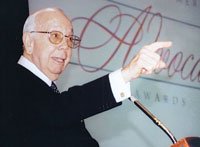 Paul G. Rogers, Chairman of the Board of Directors of the Friends of the National Library of Medicine (FNLM), died October 13 while recuperating from surgery for lung cancer. As a Congressman from Florida for 24 years, and in so many endeavors in the years since he retired from Congress in 1979, Mr. Rogers maintained a career-long commitment to public health and biomedical research. As an expression of the priority he felt should be given to health research, the man widely known as "Mr. Health" often said, "Without research, there is no hope!"
Early in his public service career, Congressman Rogers recognized the vital role played by the National Library of Medicine (NLM) as the arm of the National Institutes of Health that collects and organizes scientific research to be accessible to researchers, healthcare practitioners, and the public. Characteristically, when Mr. Rogers recognized that something was important, he took action, called people together, and made good things happen. FNLM is one of the many beneficiaries of his life of service.
The Board of Directors of FNLM joins all of those in the biomedical, science, and public health communities who knew Mr. Rogers and benefited from his leadership and friendship. He was a wonderful, giving, and honorable man. As a board, we express our condolences to his wife and family. We will all miss him a great, great deal.
We include here a link to a statement released by NIH Director Elias A. Zerhouni, M.D. upon the passing of Mr. Rogers, and as additional information, links to obituaries about Mr. Rogers in the Washington Post and The New York Times.
The Board of Directors
Friends of the National Library of Medicine
https://www.fnlm.org/wp-content/uploads/2020/07/Paul-G.-Rogers.jpg
321
845
Ann Hill
https://www.fnlm.org/wp-content/uploads/2020/09/FNLM_logo_tagline_1000px.png
Ann Hill
2020-07-28 22:11:29
2020-07-28 22:11:29
Friends' Chairman—"Mr. Health"—a Champion For Medical Research